Where are they now?
Friday, November 03, 2006
Remember the English girl group of sisters called Cleopatra? Yeah, I pretty much forgot about them too until my boy Ira IMed me with a link to their new profile. They now have a more...
relaxed
look. If you know what I mean.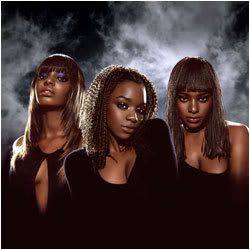 Doesn't this look like a Soft 'N' Beautiful ad?
Cleopatra Myspace
posted by A Hot Mess at 9:58 AM

|
Permalink
|