Busta Busted for Driving on the Phone, Curses Out Police
Friday, November 03, 2006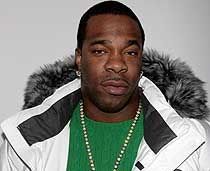 Busta Rhymes
got in trouble with the law yesterday for talking on his cell phone while driving and he was NOT happy about that.
Busta, whose real name is Trevor Smith, was pulled over in his GMC Denali SUV in front of Manhattan's Midtown North Precinct station house. Police officers noticed Rhymes chatting on the cell phone while driving and issued him a summons for the offense. According to the New York Post Busta was none to happy about the ticket and cursed at the officers who stopped him. He then reportedly crumpled the ticket up, throwing it away and drove off.
SOHH
Blah Blah Blah -
Diddy
wants to be the first black Bond. What I wouldn't pay to see Cassie as a Bond girl
Sister Act
The Musical
?
posted by A Hot Mess at 1:03 PM

|
Permalink
|