New Cassie Video - Long Way 2 Go
Thursday, September 14, 2006
Check out the new Cassie Video.
If you don't feel like watching it don't worry about it because I can easily sum this one up for you. Basically she's just on her red laptop ( "omg sooo cute!!!") checking Myspace and she's just sooo sick of all of these ugly losers trying to add her so she's just rejecting a bunch of people. Her girls knock on her door ( aka the back up dancers )"C'mon Cassie! We need you! You are so popular and talented! Let's go to the club!" So they are all walking down the street, sort of dancing or whatever and since Cassie is just so popular she's in the front and everyone is just trying to get with her. They get to the club and she finds some dude to dance with. At the end she laughs and looks in the camera a lot and then she adds im on myspace. It's just like most of these R&B videos that these girls are putting out now and it's kind of boring. I had a feeling it was going to be like this but I watched it because I needed something to be annoyed with. They need to spice it up alittle bit. Put some dragons in the video or whatever. The beat on this song is much better and doesn't sound like something I could have made on a knock off Casio like "Me & U" did. She doesn't really sing on this song but talks and that seems to sort of work for her. If I bleached my skin, wore silky weave and told people that I was half asian then I could be a star, too. Excuse me while I go get some Ambi cream so I can be on my way to being a Next Selection ho.
Just a few pictures from Nas' suprise birthday party: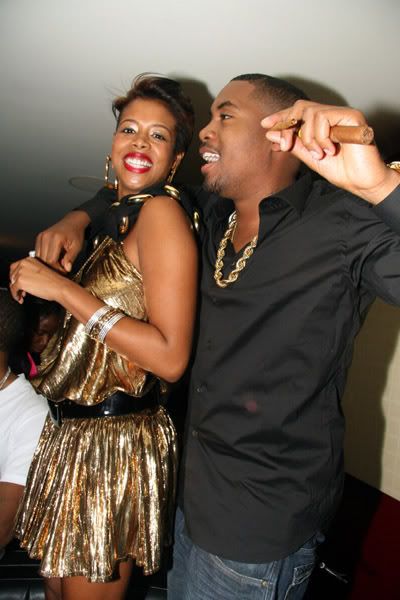 Kelis looked beautiful as always. I wonder what she uses on her skin because it just always looks so flawless. Tracy Morgan is just looking a hot mess and I'm sure he wore his shirt off for publicity. "Oh yeah! It's that dude!" I'm not going to even talk about Nick Cannon because then I would be feeding his ego but let's just say that he looks like he is seriously playing dress up. I bet Mario and Usher went in the back to make up. I'm sure we will see those pictures pop up on Media Take Out sooner or later. Lol how could they even breathe with Mario's big ass nostrils taking up all the air? Damn. I wonder who Diddy cheated on Kim Porter with that night? Rosie Perez?
More at Crunk and Disorderly and
Juiicy Scoop
posted by A Hot Mess at 12:45 PM

|
Permalink
|