Brandy working on new album.
Tuesday, September 26, 2006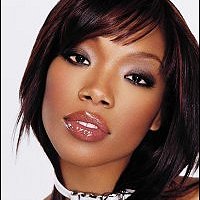 Looks like Brandy is going to step back in the game. I guess she has to come out with an album to match her new hair weave line with Ultima, her new veneers, and new religion. Brandy has been blogging like Diddy and has been talking about how she is working on a new album that should be out in the beginning of 2007. It's been two years since Afrodisiac ( which reached to the #3 spot on the Billboard Charts ) and people have been wondering "When is Brandy getting back in the Studio?!"
"Hold tight and be patient on the new music, it's coming and I promise you will be thrilled. You know how I do it," said Brandy to her MySpace fans.
Brandy left Atlantic Records and is with an indie label Knockout Entertainment. She is going to be working with Rodney "Darkchild" Jerkins, The Neptunes, Bryce Wilson (formely of Groove Theory), and others. This is going to be really interesting to me because I recently found out that Brandy was a Scientologist. If I end up hearing "Slow down Tom, you killin' them" or anything about Xenu then I will be really depressed. I use to be a hardcore Brandy fan back in 8th grade and Never Say Never is STILL the shit.
posted by A Hot Mess at 6:40 PM

|
Permalink
|