Justin's Mom misses Britney :(
Tuesday, August 29, 2006
GLA
reports: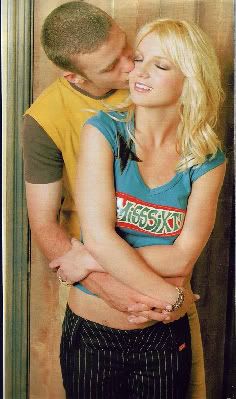 Justin Timberlake's mother still misses her son's ex-lover Britney Spears. The "SexyBack" singer's mother Lynn Harless, who is also his manager, has spoken out about how devastated she was when the young couple broke up in March 2002. Lynn revealed: "Britney grew up on my living room floor. I still love her to death. Justin and Britney were together 10 or 11 years, and from day one they had that chemistry between them."
Since their split Justin has launched a successful solo career and started dating Hollywood actress Cameron Diaz. Britney married her former dancer Kevin Federline, took a break from singing, had a son, Sean Preston, and is currently expecting her second child. Lynn admits she is worried about the "Toxic" singer and hates the constant negative reports claiming her marriage is in trouble. She added: "Britney is a sweet girl. I just hate what she's going through now."
Uhhhhhh thanks for that, Lynn.
The only thing that jumps out of the article and screams LOL is the fact that Cameron Diaz was mentioned in all of one sentence.
posted by A Hot Mess at 8:31 PM

|
Permalink
|