Meredith says "My bad!!"
Tuesday, August 29, 2006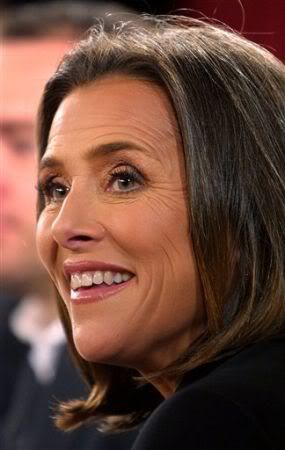 As usual, the press turned around something that was said in an interview and heads almost began to roll. Meredith Vieira was quoted saying that "The View" had become "A Joke" but she's now saying that this isn't what she said was taken out of context. "I felt that the media was turning ["The View"] into a joke, not that the show was a joke," she says"
Nice way to save your ass before Barbara Walters and Co. start showing up in your dreams the same way Fairuza Balk, Rachel True, and Neve Cambell did to Robin Tunney in "The Craft"
Damn! Watch Tara Reid get dissed at club Hyde while they just let Paris Hilton walk the hell in. They let the girl that was in "House of Wax" in before the "American Pie" star?! C'mon now. This almost as comfortable to watch as the Cassie "Me & U" performance on BET. Almost. You can just see the hurt in Tara's eye. They even let the nobody that was with Paris in. Wow.
Source: TMZ
RING THE ALARM! because Beyonce has once again said/done something stupid! B is once again being called out by PETA for the way a baby alligator was treated on her promo photoshoot from TrainwreckB'Day.
"BEYONCE KNOWLES has been reprimanded by animal rights group People for The Ethical Treatment of Animals (PETA) after boasting about taping a baby alligator's mouth shut at a photo shoot for her new album. After consulting with British reptile biology expert CLIFFORD WARWICK, PETA activists are snapping back at the pop star for allowing something so cruel to take place. Knowles upset the animal activists by telling September's (06) Arena magazine that the taping incident was "my bright idea," adding the reptile was so distressed, "he peed on me." Warwick has now teamed up with PETA to make sure Knowles knows that what she did was both cruel and insensitive. In a letter to the pop star, he writes, "Humans and alligators are not natural bedfellows, and the two should not mix at events such as photo-shoots. In my view, doing so is arguably abusive to an animal. "Humans have historically treated alligators badly. Skin and meat traders ranch them and slaughter them via slices through their spinal cords or bludgeon them with hammers. The alligator you handled probably faces this same end, after a life of confinement in captivity. "It seems a great pity that this animal's problems should be added to in the course of promoting your own work."
WHERE WAS HOVA WHEN SHE WAS SAYING ALL OF THIS? She should have learned her lesson from last time when PETA jumped on her ass for using fur in her clothingline
House of Dereon. I'm sure Rihanna smiled when she found this out.
Source: ONTD
More:
Lance and Reichen "Out" and About
MK and Ashley looking high.
Foxy "Inga" Brown -- "Yeah, I attacked a few manicurists."
Man, she kept it TOO real. She hit someone in the face with a CELL PHONE!
posted by A Hot Mess at 7:16 AM

|
Permalink
|