Kimora Lee Simmons bisexual? You don't say!!
Friday, December 01, 2006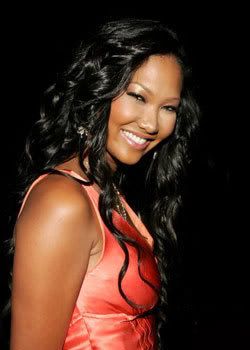 Now I know a lot of people give mediatakeout.com a lot of shit but I think they are on the ball with this one. A lot of you may know this already but gay rapper
Cashun
is coming out with a tell all book about all of the DL people in the business. In his book he is going to reveal how
Kimora Lee Simmons
is bisexual and had a relationship with a model named Keisha. In the article on MTO it doesn't mention Keisha being a model but I know for a fact she is because I read about her a few months ago and how she's in this movie called
The Aggressives
that focuses on hardcore stud lesbians. She is some high fashion model in NYC and this would make a lot of sense as to how her and Kimora met. Also, I read a blind item around the time Kimora and Russell split saying that the women would always have threesomes with her husband ( kind of saying that this was the only way they would even have sex ) until he banned women from the bedroom. Then she all of a sudden didn't find him attractive and filed for divorce. People were practically screaming Kimora and Russell when this came out.
First there was Superhead. Next there was Carmen. Now another tell-all book is in the works that is poised to rock the hip hop world. MediaTakeOut.com has learned that the new book, entitled The Gay Superhead, is set to expose the secret homosexual lifestyles of a number of hip hop superstars.

The tell-all book will chronicle the life of Caushun (pronounced caution), a gay rapper that gained national notoriety after appearing on Wendy Williams' radio show. Caushun, who was signed to Kimora Lee Simmons' Baby Phat Records, was reportedly privy to some of Kimora's deepest secrets.

MediaTakeOut.com spoke with a person close to Caushun who claims that the book will talk about Kimora's "extremely close" relationship with a lesbian woman named Kisha (pictured to the right). Kimora reportedly purchased a Manhattan apartment where she allowed Caushun and Kisha to live in - rent free. The source explains, "in return for free rent, Caushun was a decoy for Kimora and her [close friend] Kisha ... When the three of them (Kimora, Kisha, and Caushun) were seen in public, Kisha was explained as Caushun's roommate and not Kimora's [close friend]."

And the source claims that Kimora frequently visited Kisha at the apartment. Adding, "one of the neighbors would complain about all the loud moaning that came from the apartment whenever Kimora and Kisha were there."
You can read
the rest here
posted by A Hot Mess at 9:21 AM

|
Permalink
|