Beyonce to play a lesbian?
Friday, November 10, 2006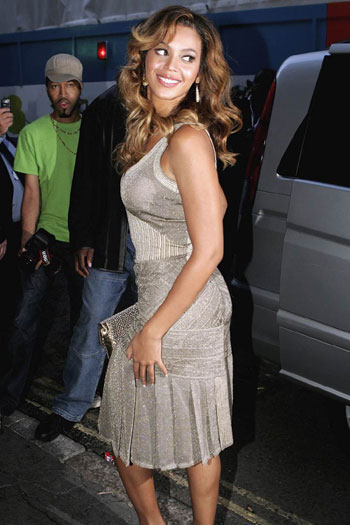 Now i'm posting this but I really can't bring myself to believe it. I really can't see Beyonce playing a lesbian. If i'm not mistaken she's basically said that she could never see herself with a woman. I'll find the quote but I'm trying to post this real quick before I go out to lunch.
Beyonce Knowle and Eva Longoria will play lesbian lovers in a new movie. The gorgeous stars have revealed they are set to star in sexy Victorian drama 'Tipping The Velvet'.
Eva, 31, said: "Yes it's true. We are talking about doing the movie together. It's such a wonderful novel, a beautiful love story."

Director Sofia Coppola is hoping to bring Sarah Water's novel about sexual repression to the big screen and is desperate for Beyonce and Eva to take the roles of a 1890s music hall star, Kitty Butler, and her lesbian lover Nan Astley.

Beyonce, 25, thinks it is time the world was treated to a classic lesbian love story.

The singer, who was speaking at a New York benefit for ovarian cancer, said: "We've had 'Brokeback Mountain' so the time is right for this divine novel to get the same treatment."

Beyonce and Eva are said to be incredibly excited about the steamy love scenes and can't wait for filming on the project to start.

A source revealed: "They weren't at all coy about the sex scenes. In fact they both seemed to think it would be more fun than doing the same work with a man. It's going to be very hot."

The BBC's TV adaptation of 'Tipping The Velvet' caused outrage four years ago with its graphic sex scenes, which included cross-dressing and the use of sex toys.
Source
posted by A Hot Mess at 11:00 AM

|
Permalink
|