Ice-T and Coco au naturel on new album cover
Wednesday, October 18, 2006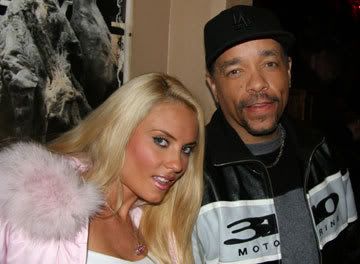 Ice-T
and his Anna Nicole Smith-lite wife
Coco
are set to appear nude on the cover of Ice's new album
Gangsta Rap
, due in stores Halloween.
Apparently, Coco's behind will be in full view with one of her legs covering Ice-T's junk.
American music stores are threatening to boycott unless the cover is changed, to which Ice-T reportedly responded: "What can I say, I have been doing these kinds of things for years. You should see the picture when Coco's leg is not there."
Now I wasn't able to obtain a picture of this cover (thank God), but my question is what's the point? I think we've all seen Coco's goodies on one or more of the numerous occasions she's worn fishnet, well,
everything
while following her husband around on various red carpets. And maybe I'm wrong here, but I think I'd be hard pressed to find anyone who wants to see Ice-T nude. Richard Belzer, maybe. But Ice-T? No, no.
(PR Inside)
Throwback of the Day: "Swing My Way" by KP & Envyi (1998)
This video is hilarious. I don't really know what's going on, especially with the dancing. It looks like one of those commercials that comes on after midnight for "LiveLinks". The singer Envyi looks like Brittany Murphy with a short 'do. I know y'all remember when Miami Bass songs like this were HUGE. I bought a mixtape called
Phat Jamz
(lmao!) in fifth grade that had a bonus disc with all bass remixes.
posted by JC at 2:45 PM

|
Permalink
|