YOUR GHETTO STOCK MARKET REPORT
Tuesday, October 31, 2006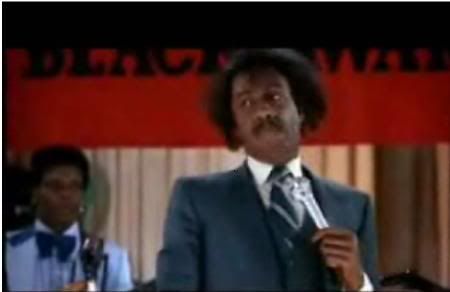 LADIES AND GENTLEMEN! LIVE FROM THE COMPTON SWAP MEET
SPONSORED BY SWISHER SWEETS!
IT'S THE GHETTO! STOCK! MARKET! REPORT!
WITH YOUR HOST: THE DOUGHBOOYY!
What's good HotMessians? It's ya Doughboy with the creamy center serving up your weekly Ghetto Stock Market, delivering you the latest on who's dat crack and who's wack.
On her way up from that huge loss she took at the end of Flavor of Love 2 is that greasy New York. Her stock rose this week with the announcement of her show I Love New York will make it's Celebreality Debut on January 16th. Expect to see a group of down low divas scrapping to get that number one spot. I'm sure I Love New York Too will be in development soon after the first show's winner is exposed on a gay porno like ya boy Lloyd Banks.
Increasing his weekly stock is none other than the Jigga man Jay-Z. After kissing that Manhattan asphault when he landed from his world tour, Jay took time out to hit up Hot 97 with an interview and a freestyle. The Dirty Pirate, Jim Jones had been talking greasy about Jigga with his duo of disses "Ring The Alarm" and "Kingdom Done". Jigga splashed a little ether on Jim Jones tongue by saying: "Who is Jim Jones to be sayin something about me?", "That's like the 9th guy off the bench shoutin "you a bum" to the superstar puttin up 50.", "Does he have a classic album?, NO! Is he on anyones top 10 lists? NO!" D-D-D-D-D-D-D-DAYUM! You can hear ether in it's entirety along with a hot jigga freestyle to that "Grammy Family" beat down below. Oddly enough, by way of the Jay-Z ether, Jim Jones' stock moves up as well because once your name comes from Jigga's lips it's another 100,000 sold. Ethered or not, Dirty Jimmy is still BALLLLLLIN!
(props to Dat BK Nikka)
Our last big gainer of the day is none other than Curtis "Interscope" Jackson aka Fiddy Cent. He gets the biggest gain of the week due to the fact that he dissed Murder INC so bad that they went from the top of the charts to a VH-1 Celebreality special. The Hamburglar himself, Irv Gotti will star in Irv Gotti Himself, a show documenting his life after beating that money laundering rap in court. You'll also see the softer side of Irv as you'll see him play with his seeds and kick it in the cut. Yes, this is what the Inc is reduced to. From running the Carters to The House of Carters. Fifty stay winning. Insider traders state that Fifty will be on his way up soon once Irv gets desperate and try to pair Inc label mates Ja Rule and Michelle Branch on a duet.
And now for what you've come here for. THE LOSSES
Starring on this week's Biggest Loser block is resident loser The Game! The Game said on BET's 106th and Park that he keeps the master of The Doctor's Advocate with him at all times just so he'll be sure it won't leak. The bootlegging community took that as a challenge and sure enough, Sunday night, the Advocate found it's way on the net. Over the weekend track after track after track leaked with stans getting their panties in a bunch over the new piff. After awhile, your internet hustlegods hooked up that retail and the world rejoiced. Sure the album is hot and will be a west coast classic for years to come, but JT, you never eva, NEVA EVA challenge a bootlegger. Niggas had bootlegs of the 9/11 Commission and Harry Potter before they dropped, you know we're getting a hold of yours. Believe that! This just in...Jay-Z is headed for loss this Saturday because my source tells me Kingdom Come will be leaking very soon. Stay tuned to the ghetto for that.
Also kicking it on the loser's bench is the Mobb Deep. With Prodigy looking for love online and Havok getting arrested on weapons charges, you'd think God would ease up on them niggas. WRONG! In the latest XXL, the Deep reveal that they could've been Shanksvilled en route to a gig in Peru when an engine failed and they had to make an emergency landing in Tampa. When Prodigy was asked what was going through his mind, all he cared about was the fact that he was going to miss out on making alot of money! Nigga, you're about to miss out on your LIFE! Money ain't a thang if you ain't there to enjoy it. LOSST LIKE THE SERIES!
Finally, the most suspect loss of the week goes out to Johnny Gill. After years on the road, and millions of albums sold, he waits until NOW to have his first child? And apparently the child is now five months old? Yeah right nigga. We all know you and Eddie are swappin spit, you don't gotta lie or buy a baby on eBay to kick it. Your penis and a vagina are like oil and water, keep it real ol boy. Buying babies from Jamaican immigrants is not a good look.
That's all! Your ghetto stock report signing off. C'YEAH!
posted by Justin at 9:33 AM

|
Permalink
|